Two weeks have passed since the creative exchange between Trinidadian artist Shanice Smith and I began. While I think we've both made some headway with regard to conceptualising a more concrete series of work to present at the end of the residency, we've also both been wrestling to finish older projects that have managed to roll over and encroach on our time here. In my relatively brief history of residencies, I've recognised that these things happen and while there might not be any way of avoiding them altogether, you can certainly learn to work with them. In other words, just roll with the punches.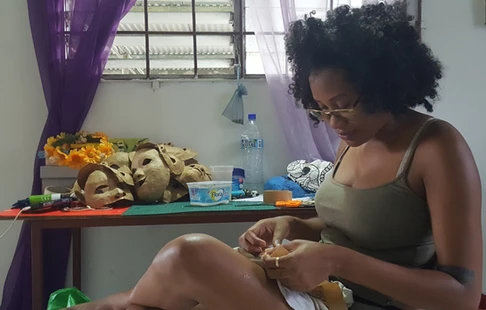 As a creative practitioner, it's important to recognise that each residency will be different and as such will require you to respond differently in order to effectively manage your time.
Unlike the two previous residencies I attended (Caribbean Linked IV in Aruba and Vermont Studio Center Residency in Vermont, USA), I came into this with a plan (for a number of reasons). In this case, because it was an initiative which both of us funded out-of-pocket, the pressure was on to be a bit more organised than usual. Administrative duties, logistics in terms of transportation and other things that are typically handled by the host organisation would now fall squarely on our shoulders. In addition to producing a solid body of work together, we would also be responsible for managing the residency in a way that would allow us to make the necessary connections and engage as many persons from the local artists' community as possible.
So the first two weeks mostly involved seeing places and meeting people, and I was extremely grateful for everyone who stepped in to facilitate that in one way or another. I think this component of any residency is crucial, because you're not there to make work in isolation (at least I'm not here for that). There is a certain level of engagement that needs to happen in the first week — at least before you can really settle down to begin production. And although this is common knowledge, it still does very little to fend off those pesky feelings of anxiety that creep up to remind you that you're not working fast enough. Nevertheless, the show must go on and we must find ways to work through the heat exhaustion that has burdened us these past few days.
One of the many things I found myself contemplating since I've been here is the creative community's response to this MOU initiative. There is a general feeling of excitement around the possible outcomes of this leg of the residency, however, I couldn't help but wonder why more initiatives of this nature weren't being undertaken. Obviously, funding (or lack thereof) is a major contributing factor to this dilemma. The reality is that most artists are working as teachers (some out of genuine love for the profession but most out of necessity), often with a less than spectacular salary and not nearly enough time to focus on developing their own portfolios. The remaining artists (myself included) work in limbo, freelancing and doing the odd job here and there just to maintain relative control of our time. So while the desire might be there in both scenarios to participate in these kinds of initiatives, there are also very real reasons why most have failed to materialise.
How do we work around those challenges?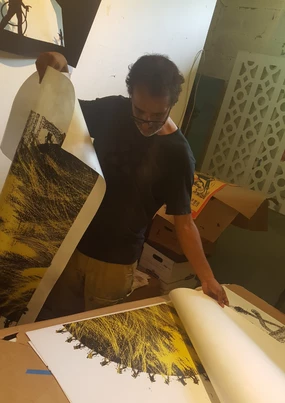 Recently, I've become very interested in systems that facilitate these types of initiatives by stepping in to provide support in the area(s) most needed (whether it's time, space, funding, resources, information, networking etc.). Currently, there are a few spaces across the region, which offer that kind of support to creative practitioners; but of course there is always room for more. Sometimes it's as simple as recognising that in the absence of opportunity, it is our duty (as individuals and collectives) to create them ourselves.
How do we make these types of initiatives the new "normal"?
The story seems to be the same regionally. No one is willing to invest in the arts in a way that isn't short-term or they simply don't understand how to begin making meaningful investments. Either way, the general consensus seems to be that there has been regional budget cuts in the arts sector and very modest to non-existent contributions trickling in from the private sector. How do we deal with shrinking budgets and what happens when support from the private and/or public sector falls through? These are all things that have occupied a more central position in my mind, even as I prepare for an intense workweek ahead.
MOU (Memorandum of Understanding) is a collaborative residency initiative conceptualised and developed by Trinidadian artist Shanice Smith and Guyanese artist Dominique Hunter, after the two met on the fourth iteration of the Caribbean Linked residency in Aruba last year. The residency, which takes place in Trinidad & Tobago, was designed to strengthen new and existing connections between creative practitioners working in the two countries. In addition to creating a platform for Smith and Hunter to expand their individual portfolios, the long-term vision is to continue explorations between both artists and to foster an ongoing engagement with local artists and artist spaces such as Alice Yard.